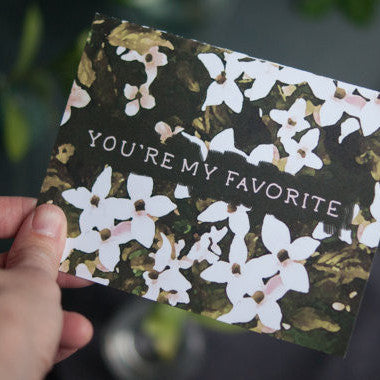 Botanical Print Greeting Card with Dogwood Art, You're My Favorite
$ 4.50
A pretty floral greeting card design with the hand-lettered words "You're My Favorite" on the front. Featuring a painterly, watercolor botanical illustration of dogwood flowers in a handsome muted color palette of charcoal, olive and blush pink, the print evokes vintage textile patterns. Perfect for Valentine's Day or any occasion where you want to let someone know you think they are special.
The inside of the card is blank. The folded card measures 4.5"x5.5", size A2. Comes packaged in a cellophane sleeve.
This card is a Gather Goods Co original and is designed by shop owner, Michelle Smith.