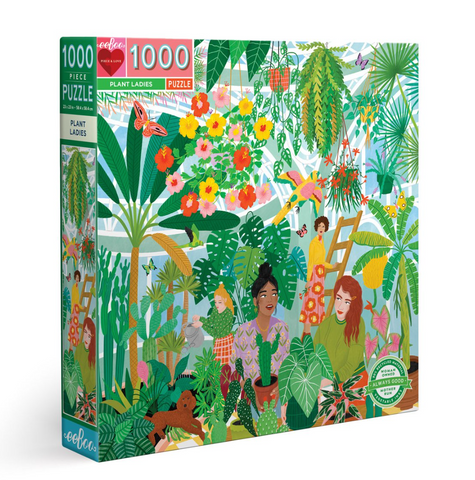 Plant Ladies, 1000 Piece Puzzle
$ 26.00
Stay cozy at home with this 1000 piece plant lady puzzle.
Dimensions: 23 x 23 inches

Box size: 11 x 11 x 2 inches

High-quality jigsaw puzzles for adults, with glossy, sturdy pieces (and minimal puzzle dust!)

Full-color image reference print included inside

Original artwork by Bodil Jane

Jigsaw Puzzles Made Fresh!
Artist Bodil Jane celebrates coming together to nurture one another and grow. This 1,000-piece jigsaw puzzle was thoughtfully commissioned and beautifully designed to offer a screen-free, relaxing way to practice contemplative mindfulness or share a gentle cooperative activity with friends and family.
Bodil Jane (@bodiljane) lives in her hometown of Amsterdam, finding inspiration in local flea markets and botanical gardens. Bodil thinks being "perfect" is boring, and wants to portray people who are unapologetically themselves.