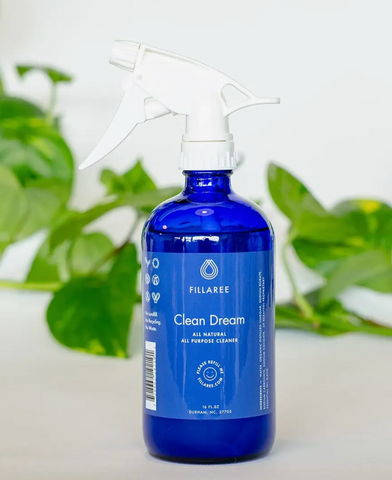 All Purpose Cleaning Spray, All Natural
$ 16.00
This clean dream spray is pet safe, kid, safe, and earth safe. Get a toxin-free clean from our natural and aromatic all-purpose cleaning spray. Works on all nonporous surfaces, such as countertops, porcelain, bathroom fixtures & more. Purposely fitted with a heavy-duty spray nozzle, this natural cleaner is meant to be refilled again & again. 16 Fl oz.  
Comes in gorgeous blue glass and is fitted with a heavy-duty sprayer and waterproof label this is meant to be the last bottle you will ever need to purchase! 
Ingredients; Water, Organic Distilled Vinegar, Sodium Borate, Sodium Carbonate, Fillaree Dish Soap, Essential Oil Blend.